General properties

DCON
 plank 
is a pre-stressed concrete plank with three different shapes; flat, rounded, and angular bottom. 
Normal size: 

35 cm

width x  5 cm depth
Conformed to TISI No.576-2546 and
                        TISI No.828-2546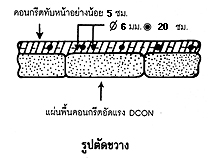 Usage

D
CON plank is suitable for short to medium span floor system which is no longer than 5 m, such as commercial 
building, low-raised condominium, office building, school, townhouse and other structures.
Cost saving, durability and good appearance can be done easily by using DCON Plank.
To select the length of a plank used, measure the clear span between the beams and check the desired live load with load table provided.
Normal length will be 2 times of plank depth plus clear span.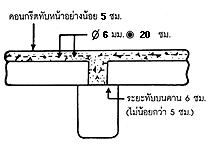 The advantages of DCON
pre-stressed plank

 1. Strength: as they are designed to be simple beam structure, that means the structure in using condition will yield more bending strength due to continueous structure.
 2. Flattened base can help saving coating work by only grouting at the connection before painting.
3. Smooth and dense bottom surface will reduce painting cost.
 4. Connector steel on the top of plank with help making the composite slab.
 5. Side steel plates will help adjusting level of each plank and also load transferring. 
 6. Easy to install: Lighter weight per square meter and thinner than other slab system which can help reducing building's height.
 7. Flattened base will be completely placeed on the beam, therefore the structure will not need additional brick works to fill the gap or painting on that area.